5 Day Retreat in Nature Sanctuary ~ Camping ~ Ritual
2 vegetarian meals per day 160 acres 80 humans $316-$526*
Join us at Skalitude Eco-Retreat in Carlton, WA. Nestled in the foothills of the North Cascade Mountains we will spend 5 days together immersed in the beauty of Nature. EcoMagicks offers an opportunity for deep connection with the land and the practice of loving kindness with each other. We awaken our divine obligation to all that has come before us and to all that will live on after us. We create resonance with others whom, like ourselves, share a calling to be of service to this living Earth. Together, with feet rooted firmly on this Earth and hearts opened wide to the horizon, we co-create rituals,, remembering what it is to be human — ecstatic and grieving, forever interdependent and completely sovereign, bound and supported by our purpose, our passion, and our place in this sensual prayer of Life.
Event Context
EcoMagicks weaves together the resilience building skills of embodiment, permaculture, song, small group resonance, earth-based spirituality and artistic expression within a consent-centric, magickally focused container that celebrates ritual as a powerful source of personal, social & ecological transformation. EcoMagicks creates a cauldron for deep connection, healing, and collective creation where life is sacred, our bodies are sovereign, and the Earth is our beloved partner with whom we collaborate to create abundance. With the mountains as our witness and as our guide, we deepen our understanding and practice of what it means to be loving humans in this time of transformation.
Event Programming
Eco-Magick offers small group resonance clusters each morning from 10-Noon to meet our needs for belonging.
Afternoons have space for open source workshop offerings, ritual planning meetings, and time to make art or chill in the Tea House.
During the evenings, we deepen our communal healing with rituals. Throughout the gathering there is ample spaciousness to create art, make music and commune in Nature with the divine. There will be programming for children and teenagers but all people under 18 must have a registered adult accompany them who is responsible to provide for their well being. All registered adults will contribute 4-6 hours of volunteer time to community commons tasks that attend to the work of creating the event.
Listening intimately to the land and each other, we celebrate the deep consciousness of Nature in order to evolve towards a culture that honors life by offering loving kindness, ecological sustainability and daily awareness of magic as a source of healing and communion. All of Earth's lovers are welcome.
All tickets are non-refundable and non-transferrable.
Legal ID is required at onsite registration.
Ask to REGISTER as an Organizer or Vendor by writing us: ecomagick@gmail.com
You can also send an email to make arrangements to pay with cash, check or money order and avoid the ticket app fees.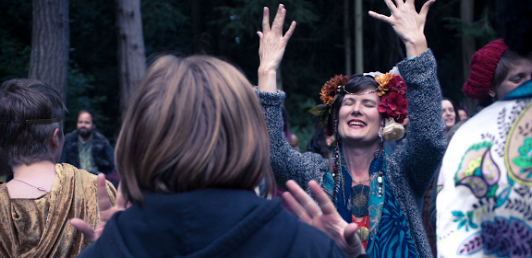 MORE DETAILS or FAQ's
Eight Catered Meals Provided
Four Vegetarian Breakfasts and Four Vegetarian Dinners are included in the cost of your event ticket. Provided meals begin with Dinner on Wed June 17 at 5:30pm and end with breakfast on Sunday June 21st. We ask that you provide your own plate, bowl, cups and silverware. There will be a place provided for washing them.
Lunch is Crowd Sourced by attendees
We ask that you bring enough food for sharing lunches communally as we connect in the dining tent. All food must be cooked over open fire or using rocket stoves as there is no electricity available for cooking your food.
Sustainability = limits on electricity & showers & toilets
Please be aware that Skalitude EcoRetreat is off the electrical grid and has very limited electricity. You will not be able to charge phones and other social media devices or an electric car without making advance arrangements with the venue hosts. Our strong preference is that people participate without cell phones and tablets at this event. There are 4 flush toilets and two indoor showers available at this event. There are also two outdoor showers with propane heated water and we plan to set up a few more solar showers. There will be 4 porta-potties and two hand washing stations to go with them. One of the reasons for keeping our event to under 100 attendees is to ensure the land can handle our physical needs sustainably.
A Family Friendly event
There will be programming for children and teenagers but all people under 18 must have a registered adult accompany them who is designated as responsible to provide for their holistic well being. All registered adults will contribute 4-6 hours of volunteer time to community commons tasks that attend to the work of creating the event.
A Community co-created event
We ask all attendees to do 4 – 6 hours of "community commons" volunteer work; helping to cook a meal, co-create nightly rituals, take down camp at the end of the event etc. We look forward to building community with you.
Bramble & Teri came up with the idea for this event when they sat together on the porch of Skalitude's lodge during the Human Fairy Congress in July 2019. Bramble lives in Vancouver, British Columbia, Canada and Teri lives in Portland, OR USA. They know each other from attending Wiccan events in the Cascadia Bioregion for more than 20 years. They long to do ritual witchcraft that expresses humans love for non humans.
The event venue is Skalitude EcoRetreat in Carlton, WA. Here is a lovely photo of your venue Hosts Benjamin Brightheart Pixie and Maeyoke Brightheart Pixie of Pixie Traveling Medicine Show on FB or on Instagram hanging out with Teri during the Human Fairy Congress Gathering last July 2019. This photo was taken by the fabulous Kwai Lam and his photo archives of The Human Fairy Congress give a great view of Skalitude. The Human Fairy Congress website is the best place to view what events how the land looks, and what awesome photos Kwai takes.

Tea Lounge provided by Tea Wyzard Richard Brandt & Friends
"I offer a tea experience that focuses on the deep and ancient relationship between tea and humans. I use tea as a sacrament that nourishes the mind, body, and spirit. Tea helps to dissolve the ego and promotes loving kindness, bonding, and community. Tea has been an ally to meditators for centuries. It stills the mind and grounds the body as this powerful plant spirit flows energy systems."
"My teas are primarily sustainably and organically grown. They're sourced in China, Africa, Taiwan, and more. For this event I will be brewing exclusively camillia sinensis such as Oolongs, Blacks, whites, greens and pu-urh aged teas. The tea Lounge is a chill space to socialize and just "be". Check the schedule for hours it will be open." ~ in service Richard Brandt